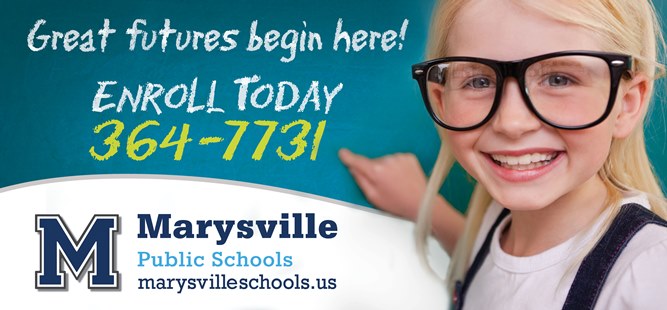 Would you like your child to attend Marysville Schools...

If you are thinking of enrolling your child in the Marysville Schools but you don't live within the district borders, below is information on the 2018/2019 Schools of Choice process.

The Application Period for the second semester will be December 3, 2018 through December 17, 2018.
( Applcations must be returned to St Clair County RESA within this window in order to be considered )

Determination letters will be mailed by St Clair County RESA on January 7, 2019.

Considerations when applying

If your child is in grade K-12, lives out of District and has already submitted a School of Choice Application that has already been approved, you do not need to complete another School of Choice application, provided there has been continuous enrollment at MPS since acceptance and you have not moved in and then back out of the district.

In the event a child (grade K-12) has been accepted through School of Choice, but the family moves into the District and then back out, you must complete another School of Choice Application. In the event the window is closed, please reach out to your school for waiver information.

If you child was accepted on a Waiver for the 1st Semester of the 2018-19 school year (Fall 2018), you MUST complete a School of choice application for the Second Semester ( begining January 2019).
School of Choice Application
Completed applications must be returned to St. Clair County RESA during the School the School of Choice Window in order to be considered.
Grade Level Availabilty by School
Marysville High Scool

9th Grade - 1
10th Grade - 2
11th Grade - 0
12th Grade - 1
---
Marysville Middle School
6th Grade - 2
7th Grade - 1
8th Grade - 3
---
Gardens Elementary
Kg - 10
1st Grade - 0
2nd Grade - 1
3rd Grade - 4
4th Grade - 4
5th Grade - 3
---
Morton Elementary
Kg - 13
1st Grade - 2
2nd Grade - 5
3rd Grade - 10
4th Grade - 3
5th Grade - 4
---
Washington Elementary
Kg - 17
1st Grade - 7
2nd Grade - 5
3rd Grade - 9
4th Grade - 3
5th Grade - 5