Welcome to Marysville Public Schools
495 E. Huron Blvd. - Marysville - MI - 48040 810-364-7731/Fax:810-364-3150
Mission: Personalize learning for every student through rigor, relevance and relationships.
Vision: Every student will excel, both personally and for the benefit of humanity.
Spotlights

2016-2017
Wednesday PLC Late Start Days:

September 21 February 1
October 19 March 15
November 16 April 26
December 14 May 17
January 11 June 7

Elementary Begins at 9:45 am
MS/High School Begins at 9:15 am
News & Announcements
June 17, 2016
2016-2017 Instructional Calendar
June 2, 2016
Great Futures Start Earlier in Marysville - BEGINDERGARTEN!
May 26, 2016
Athletic Physical Schedule for Fall 2016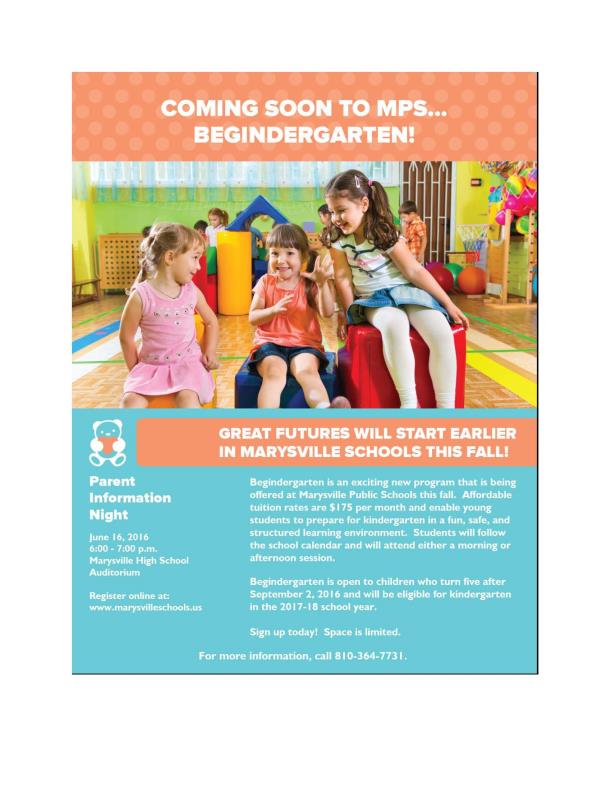 Great futures will start earlier in Marysville Public Schools this fall with BEGINDERGARTEN!
Begindergarten is a new and exciting preschool program that is being offered in the District this fall. Affordable tuition rates are $175 per month. This preschool program is for any child who is five years old on or after September 2nd. The purpose of the program will be to offer students, who are not of age for kindergarten, an additional year to grow physically, emotionally, academically, and socially. Begindergarten will prepare children for kindergarten by teaching them school readiness skills in a real school setting. Consequently, students will leave Begindergarten and enter kindergarten with an understanding of what school is and how it works, as a well as what their individual role is as part of the school community. The additional year also allows students to build confidence, self-esteem, and friendships.