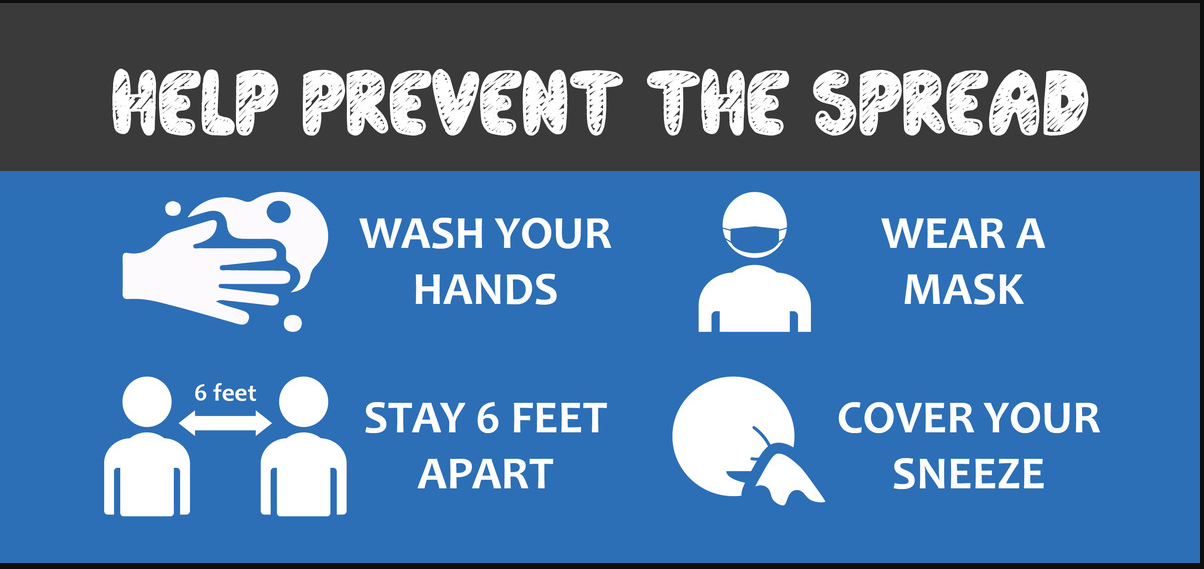 HEALTH AND WELLNESS
The safety and well-being of all who work, play, and learn within our buildings is our top priority in Marysville Public Schools. We regularly consult with officials from St. Clair County Health Department on matters related to public health. We also partner with St. Clair County RESA to ensure consistency in our outreach and communications related to public health.
Public Notice- Confirmed and Probable Cases
All positive COVID-19 cases among Marysville Public Schools (MPS) staff and students will be posted here. In accordance with the Marysville Public School District Plan, the following actions will take place for each positive case:

The individual(s) in question will be quarantined from work/school until released to return by the St. Clair County Health Department.
Marysville Public Schools District will work closely with the Health Department to conduct contact tracing. Those individuals who are determined to have been in close contact with the COVID-19 positive individual(s) will be personally contacted by someone from the Health Department or MPS with additional guidance.




The MPS facilities team will conduct additional, deep cleaning of the classroom, office, bus, or other space that was occupied by the COVID-19 positive individual(s) prior to it being reopened for staff and/or students. The cleaning will be performed in accordance with the United States Centers for Disease Control and Prevention ("CDC") guidelines.
October 16, 2020 Updates
Dear Marysville Parents and Community Members,
Last night the Board of Education voted to return all students to school for 100% face-to-face learning and those wishing to stay virtual to continue. This Board action will take effect on Monday, October 26, 2020.
For those families wishing to continue with virtual learning for their child(ren), please take a moment to complete the following form at https://forms.gle/2dvEaMM4HGfiKfV69.
So that you are aware, those families opting for face-to-face instruction, all students will be expected to wear face masks during the school day and on buses unless a medical waiver is provided (NOTE: face shields will be used as an alternative). This will be strictly imposed by the District, due to the Michigan Department of Health and Human Services' (DHHS) Emergency Order under MCL 333.2253, requiring face coverings in public spaces, including schools. We recommend that families provide cloth face coverings for their child(ren), as well as a plastic bag to house the mask during meals or breaks. For information on how your child(ren) can wear a fabric mask safely, please visit https://www.youtube.com/watch?v=9Tv2BVN_WTk.
The District knows this has been a difficult time for many families, and we recognize that there may be special circumstances to consider moving forward. Nonetheless, during this time of uncertainty, our mutual trust and partnership remain critical to support the needs of all students. Consequently, we ask for families to remain flexible in case there is a need to shift from in-person to full remote learning at the building or District level to help mitigate the spread of the COVID-19 virus and keep students and staff safe.
In the coming days, more information will be shared (i.e., transportation schedules, building-level communications, meal services, etc.) by the District and each school as we transition to full operations.
Thank you for your time and support; together we are #1MARYSVILLE.
Sincerely,
Dr. Wightman
SUPERINTENDENT
Marysville Public Schools
October 6, 2020 Update
Marysville Public Schools District Statement on K-5th Grade Facial Coverings
Late Monday, October 5th, the Director of the Michigan Department of Health and Human Services issued an emergency order requiring all K-12 students who are five years of age or older wear a face covering at all times while indoors. This order was made under statutory authority granted to the Director in Michigan's Public Health Code (see MCL 333.2253). The order took immediate effect and will remain in effect through October 30, 2020.
October 5, 2020 Update
Marysville Public Schools Statement Regarding the Michigan Supreme Court's Ruling on the Governor's Emergency Powers
Late Friday, October 2, 2020, the Michigan Supreme Court ruled that the Governor did not have the authority under state law to issue emergency declarations related to the COVID-19 pandemic after April 30, 2020. This action by the Court has raised a number of questions regarding the validity of the Governor's executive orders, many of which have guided the return to school this fall.
The Marysville Public Schools District (MPSD) Board of Education has adopted a COVID-19 Preparedness and Response Plan and Extended COVID-19 Learning Plan, which have and will – at least for the immediate future – continue to guide the District's operations as it relates to the global pandemic caused by COVID-19. These measures are intended to provide for the health and safety of all Marysville Public Schools' students and staff and to help prevent the spread of COVID-19 within our community.
The District is actively engaged with its legal counsel and will continue to review and react to guidance measures issued by statewide education associations and other authorities, including any authoritative directives related to COVID-19. Additionally, the District remains in close contact with the St Clair County Health Department.
To the extent that changes are made to the District's instructional strategies and/or safety measures related to COVID-19, such will be communicated with you. Until that time, the Marysville Public Schools' COVID-19 Preparedness and Response Plan and Extended COVID-19 Learning Plan remain in effect.
Students and parents must continue to conduct a self-screening for COVID-19 signs or symptoms daily, and students must stay home from school if they are experiencing any signs or symptoms of COVID-19 or they have been in close contact with a COVID-19 positive person. Signs and symptoms of COVID-19 that require the student to remain home from school include:
One or more of the following: a new or worsening cough (excluding chronic cough due to a known medical reason or allergies), shortness of breath or difficulty breathing, fever of 100.4 degrees or higher, and/or new loss of taste or smell.
Two or more of the following: chills or shivering, fatigue, abdominal pain, muscle aches, headache, sore throat, congestion or runny nose, nausea, vomiting, or diarrhea.
We appreciate your patience and ask that you continue to follow the guidance of the United States Centers for Disease Control (CDC) and St. Clair County County Health Department as we work to prevent the spread of COVID-19 within our community.
Parent Resources
Educational Activities Kids and Resources for Parents
Below are some educational activities for kids, as well as other resources to help parents talk to their children about COVID-19.
Wonderopolis: https://wonderopolis.org/
30 Days of Families Learning Together: https://30days.familieslearning.org/
Family Time Machine: http://www.familytimemachine.com/
A PBS KIDS Daily newsletter to help parents keep their kids engaged while schools are closed is now available. Each weekday, subscribers receive an email with educational videos, games and related offline activities and tips that families can use at home to encourage play and learning. Sign up here: https://www.pbs.org/parents/pbskidsdaily
On YouTube and YouTube Kids, PBS KIDS offers educational videos from your favorite characters and more, including this Healthy Habits playlist, with clips that explain germs, encourage hand-washing, and more. https://www.youtube.com/playlist?list=PLa8HWWMcQEGRIZNrcE35Ecp2GHiaBCLIQ
The PBS KIDS 24/7 channel offers anytime access to trusted educational series for kids ages 2-8.
The PBS KIDS Video app (https://pbskids.org/apps/pbs-kids-video.html) is available on mobile, tablet and connected TV devices and offers on-demand educational videos, and a livestream of the PBS KIDS 24/7 channel. No subscription required.
The PBS KIDS Games app offers nearly 200 educational games, which can be downloaded for offline play anytime, anywhere. Learn more about these and PBS KIDS' other apps here: https://pbskids.org/apps/
•PBS KIDS for Parents (https://www.pbs.org/parents) has an Activity Finder (https://www.pbs.org/parents/activity-finder/ages-all/topics-all/shows-all/types-all) that enables parents to search for educational activities based on their child's age, favorite show or various topics. Resources to support healthy habits and conversations with children about coronavirus and other tough topics are also available on the site.
What is Coronavirus?
Coronaviruses (plural) are a family of viruses impacting various species of animals. The specific coronavirus currently making headlines is known as "SARS-CoV-2" and causes a disease that has been abbreviated as "COVID-19." The virus is spread by air (e.g., coughing and sneezing) and by physical contact (e.g., shaking hands, touching an object contaminated by the virus).
COVID-19 has caused a range of problems, from mild symptoms to severe respiratory illness and death. Symptoms may appear 2‑14 days after exposure and include fever, coughing, and shortness of breath.
Good Hygiene Practices to Prevent the Spead
Use good hygiene practice to prevent the spread of
COVID

-19 and other respiratory diseases.

1. Stay home if you are sick, and advise others to do the same.

2. Always cover coughs and sneezes with a tissue or with a sleeve.

3. Avoid close contact with people who are sick.

4. Avoid touching your eyes, nose, and mouth with unwashed hands.

5. Wash your hands often with soap and warm water for at least 20 seconds. Use an alcohol-based hand sanitizer with at least 60% alcohol if soap and hot water are not available.

6. Clean and disinfect frequently touched objects and surfaces.
COVID-19 Archived Information 2019-2020 School Year
District Updates:
St Clair County Health Department
Michigan Department of Health and Human Services
World Health Organization (WHO)
Coronavirus disease (COVID-19) outbreak - WHO
Michigan Department of Education
Centers for Disease Control
SHARE ACCURATE INFORMATION
Always share accurate information about a virus and its spread. It is important to remember that stigma and discrimination occur when people associate an infectious disease, such as COVID-19, with a population or nationality. COVID-19 does not target people from specific populations, ethnicities, or racial background. Suspected discrimination can be reported to the Michigan Department of Civil Rights.
---