RETURNING FOR 2022-23...BEGINDERGARTEN!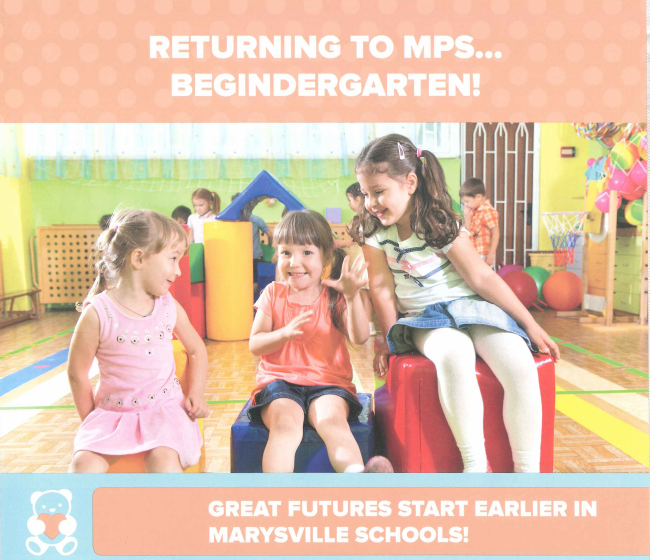 View & Print Flyer!

Immunization Requirements
Please call 810-455-6007 for questions and registration information. ​
REGISTRATION INFORMATION
Great futures will start earlier in Marysville Public Schools again this fall with Begindergarten!

Marysville Public School District offers AM & PM programs at Gardens Elementary AND full-day programs at Morton and Washington Elementary!
Affordable tuition rates are $1750 per academic year broken into payments of 175.00 per month for half-day programs and $3500 per academic year divided into ten monthly payments of 350.00/month for a full-day program. A $100 Deposit is required to secure a preschool slot. This preschool program is for any child who is four years old, before September 1st in the year they wish to enroll.
The purpose of the program will be to offer students, who are not of age for kindergarten, an additional year to grow physically, emotionally, academically, and socially. Begindergarten will prepare children for kindergarten by teaching them school readiness skills in a real school setting. Consequently, students will leave Begindergarten and enter kindergarten with an understanding of what school is and how it works, as well as what their individual role is as part of the school community. The additional year also allows students to build confidence, self-esteem, and friendships.
Sign up today! Space is limited!
View and fill out an interest form.
Please note, that this is an interest form only. Completion does not mean you are enrolled.
PARENT RESOURCES
(Click a heading below to be directed to the resource)

Marysville Public Schools Eary Childhood Programs (video)

How to Read to your Child, Video; by: The Junior League of Atlanta Speech School



St Clair County RESA - Parent Resource Link

Kindergarten Transition Guide, from Michigan Department of Education
HANDBOOKS AND PARENT NIGHT INFO

Begindergarten Parent Night (presentation)
______________________________________________________

Begindergarten Full Day Supply List

Begindergarten Half Day Supply List
---
REGISTRATION INFORMATION
Marysville Public School District offers AM & PM programs at Gardens Elementary AND a full-day program at Washington Elementary! If you are interested in preschool at Marysville Public Schools, please complete the interest forms below and a school representative will reach out to you. You can also call 810-455-6007 for more information.
View and fill out an interest form.